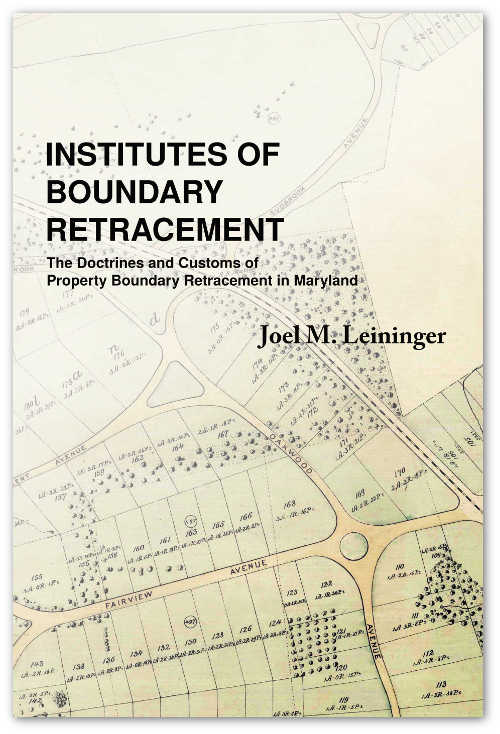 Institutes of Boundary Retracement
The Doctrines and Customs of Property Boundary Retracement in Maryland
Joel M. Leininger
With Foreword by Donald A. Wilson
Hardcover: 333 pages
Size: 6" x 9" x 1.15"
Weight: 1.7 lbs.
ISBN-13: 978-0692164815
Indices: 3

Where is the property line? The location of property boundaries is an essential but often overlooked element of real estate. Assumed by most to be a mechanical process requiring no special expertise, real estate professionals generally give little thought to the doctrines governing the procedure.
But it is the surveyor's most complex and error-prone task.
In this volume, Leininger dissects the "black box" of boundary retracement and explains the rationale behind the competent surveyor's approach. It will be useful to surveyors, attorneys, title professionals and other allied professions who retain surveyors or otherwise rely on their work.
Don Wilson, co-author of Evidence and Procedures for Boundary Location, wrote the Foreword to the text. Also included are tables of relevant Maryland cases and statutes and the Minimum Standards of Practice for boundary surveys in Maryland.
*Note: If you are a member of the Maryland Society of Surveyors, please do not buy this book from us, but buy it from their site. They have been very supportive of our efforts in producing this book, and your buying from them supports their important work.
About the author
Joel Leininger is Associate Editor of American Surveyor Magazine and managing principal of the Baltimore firm S.J. Martenet & Co., believed to be the oldest surveying firm in the nation. The author of over 80 published articles and essays on surveying and retracement, he has lectured across the country on surveying subjects. Leininger served five years on the Maryland Board for Professional Land Surveyors and is past-President of the Maryland Society of Surveyors.
Contact us:
14 West Franklin Street
Baltimore, Maryland 21201
Phone: 410-539-4263
press@martenet.com