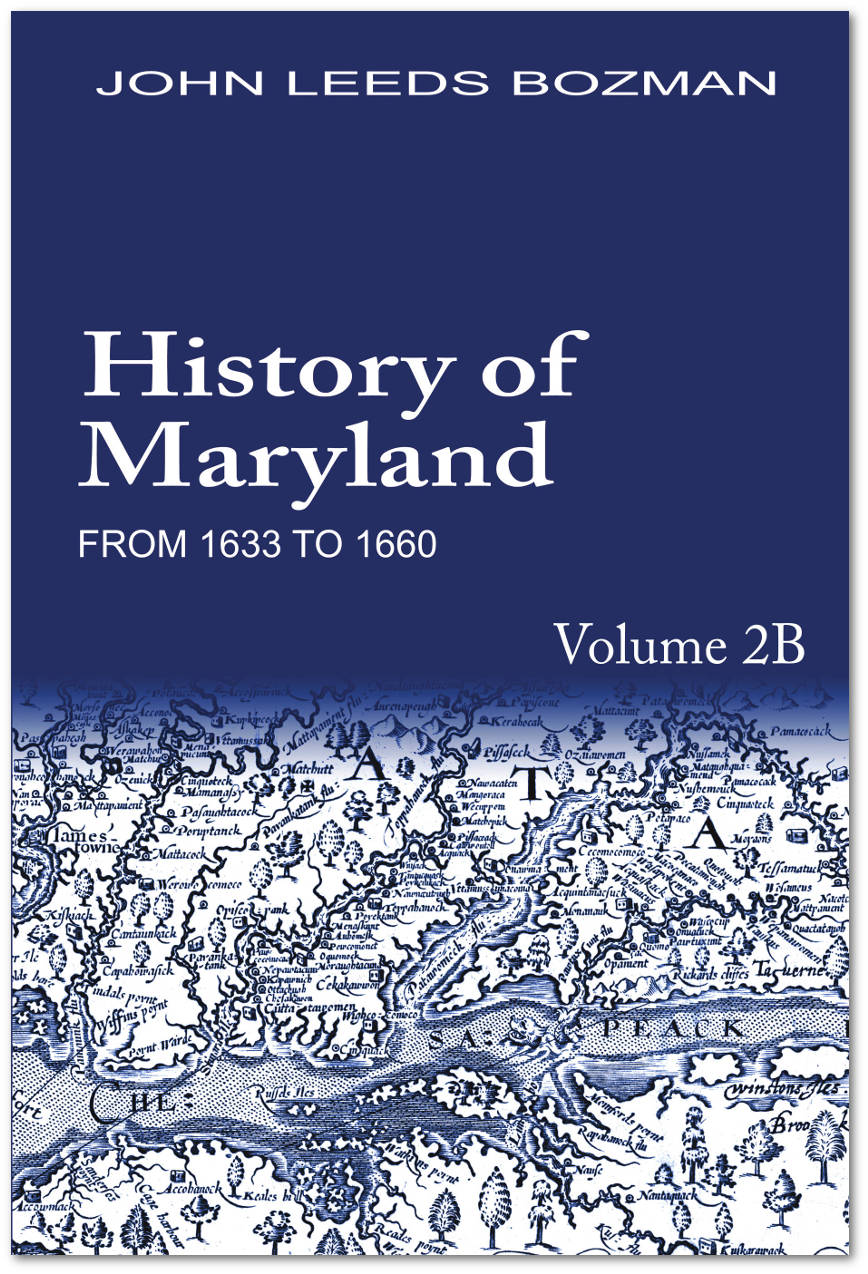 History of Maryland 1633-1660 Volume 2B
John Leeds Bozman
Hardcover:
435 pages
Size:
6.3" x 9.3" x 1.35"
Weight:
1.8 lbs.
ISBN-13:
978-1733057356
Indices:
2
Maryland as a political subdivision traces its roots back to a time both turbulent and promising. Mired in quarrels over trade, religion and territory, Europeans braved the uncertain oceans seeking riches, land and the freedom to worship as they saw fit.
Volume 2B opens with the province in turmoil over the effects of the English civil war spilling onto its shores. A usurper is elected governor and conditions remain unsettled while the rightful official attempts to regain control of the province. Meanwhile, Virginia appeals to Oliver Cromwell to overturn Calvert's charter for Maryland. Calvert, a Roman Catholic, would seem to be a natural enemy of Cromwell, who took pains to remove all Catholics from the English Government.
And the Puritans in Providence (Annapolis) continue to be more aligned to Cromwell's government than to Calvert's government in St. Mary's. Matters come to a head in 1655 at the Battle of the Severn where the Puritans rout Calvert's forces, killing over a quarter of the St. Mary's men and capturing the rest. The Puritans thus become masters of Maryland's government, awaiting Cromwell's official decision regarding the Calvert charter.
What's so special about this edition?
The Martenet Press editions are produced with the reader in mind. You can find other Bozman history editions on the web, but none like this one. The others are either photo-reproduced copies of the original printing, or they are the result of marginally cleaned-up optical character recognition software. Either results in poor reader experience. In contrast, the Martenet Press edition is a completely new typeset version with larger type and reader-friendly features throughout. We've included illustrations of the prominent individuals and events in the story (when images exist!). Bozman's history has been cited many times by other historians, so we included original edition page markers so that you can find those references in our edition. Check out the inside of the book in the sample above.
We are confident our edition is the best one currently available, and we think you'll like it.
Our own Joel Leininger has written a new Foreword to introduce the text and to explain our approach in producing the edition. We've also included two new indices, one a general subject index and the other an index of the hundreds and hundreds of people mentioned in the work.
This page pertains to the hardcover edition of Volume 2B. We also offer a paperback edition on this page, and a complete set of all three volumes in hardcover on this page and in paperback on this page. Buying a complete set will save you money as compared to buying all three volumes individually, in both the cost of the books and in shipping.
Other volumes in this set:
Volume 1 paperback See this page.
Volume 2A paperback See this page.
Volume 2B paperback See this page.
Volume 1 hardcover See this page.
Volume 2A hardcover See this page.
Volume 2B hardcover See this page.
The entire set in hardcover See this page
The entire set in paperback See this page
About the author
John Leeds Bozman (1755-1823) a native of Talbot County, Maryland was Deputy Attorney General for Maryland from 1787-1808 and was the first Marylander to write a history of the state.
Contact us:
14 West Franklin Street
Baltimore, Maryland 21201
Phone: 410-539-4263
press@martenet.com